Online reviews and testimonials are immensely powerful conversion tools.
Whenever I'm looking for a product on Amazon or another online marketplace and I find myself in two minds, I look to the user reviews for guidance. Why? Because they've been in my shoes. They've faced this choice before and made a decision.
One of the reasons we often struggle to make a decision about anything, let alone an online purchase, is fear of regret. We don't want to spend time, mental energy and potentially money only to realise later that we made a mistake. It's a fairly unpleasant experience. At the other end of the process, it's also human nature to go back and assess the decisions we've made, mentally projecting ourselves down the other path and asking "what would have happened if I'd went with the other option?'.
So what if there was a way of being able to see what was down that other path before actually making a decision? You see where I'm going with this?
The Power of Opinion
Absorbing user reviews and testimonials is a great way to gain insight into the product or service you are considering purchasing before making the decision.
Now, I know none of this is news. Most of us use or have used reviews or testimonials when making purchases but it's worth taking a moment to consider whywe do it in order to fully appreciate the topic at hand.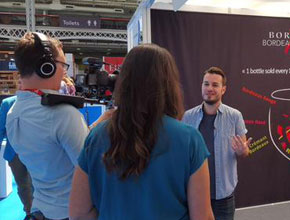 If the reviews or testimonials you read before a purchase are going to help you make a decision, you want to be damn sure they are 1) genuine and 2) from someone who knows what they're talking about.
Ok sure if I'm buying a new lamp or a cafetière on Amazon, I don't expect to see video reviews by
lighting or coffee experts as that would be a tad overkill. However, if I'm about to spend hundreds or thousands of pounds on a product or service, written reviews just won't cut it.
And that is how a lot of your customers are going to feel when they arrive at your site. The written testimonial is not the friend of the wary buyer. What's to say you didn't write it yourself?
Give Them Faith!
Video testimonials on the other hand are pretty darn hard to fake, plus they brings numerous benefits:
A testimonial page crammed full of videos says to prospective clients that you treasure honesty and transparency and that you are willing to go the extra mile to proof it.
Video testimonials build trust by providing prospective clients with first-hand third-party endorsements. It's one thing for your staff to sing your praises but a video of a rave review from a satisfied customer is priceless.
Your previous client has the opportunity to explain who they are and what they do in a video, something written testimonials lack. This qualifies them as someone whose opinion is relevant to the service being offered.
Your current network of previous clients is your number one resource for new business and nothing strengthens that bond like a video testimonial. It shows that client how much you value their opinion and their business and gives them the opportunity to relive  the joys of working with you which helps to develop brand awareness.
In addition to all the public-facing advantages, video testimonials also pump your site full of video content which has numerous SEO and search engine visibility benefits.
Whether you have testimonials on your site or not, you need to start making videos. If you don't, you're competition very soon will and you'll be left playing catch up.
One final thing. While I'm a strong believer in smart phone videos to help bolster your brands social presence, I would strongly advise against DIY video testimonials. They look unprofessional and off-putting and not the kind of thing you want to greet prospects arriving on your site for the first time with. Just have a look around some of your competitors website and look at the quality of their video testimonials. I guarantee you will see what I mean.
Plus, if they look great, you can always have a bit of fun with them as well…